Dear Valued members of IEEE South Africa,
Thank you for your loyalty to and participation in activities of IEEE. This message is a brief summary of accomplishments by volunteers and members for 2018 and recent updates for IEEE in South Africa.
Key accomplishments for 2018
Our number grew in all dimensions, following the last year's trends:

Thanks to the efforts of the volunteers and members, the Section has continued to grow and the Section again received a Gold Award for membership development.
The number of events (professional, technical, administrative and nontechnical) offered to members and public has soared from 66 in 2017 to 98 in 2018.
The number of IEEE and IEEE supported conferences has increased from 10 in 2017 to 11 in 2018.
We gained 26 new Senior Members, as compared to 6 elevations in 2017.

New IEEE South Africa organizational units have been established, namely

Vehicular Technology Society (VTS) Chapter, led by Professors Sunil Maharaj and Reza Malekian (University of Pretoria)
New IEEE Student Branch at University of Western Cape (UWC), an initiative led by Andre Henney, Antoine Bagula and Stephanie Agenbag, UWC.
and several more units are being prepared.

We held nine IEEE Senior Membership Elevation workshops in 3 Provinces, although this process is still ongoing)
We hosted several Women-In-Engineering (WiE) events, including sessions with over 130 attendees at IEEE Power Africa event, 120 attendees at UCT and over 200 attendees at UKZN.
South Africa hosted IEEE Region 8 (Europe, Africa and Middle East) Membership Development workshop, organized by Seyi Stephen Olokede and Albert Lysko.

The workshop received Exemplary Service Award from IEEE Region 8.

We held a series of "Entering the Real World Workshop" workshops for students in September 2018, helping the students to prepare for professional employment (lead organizer: Darryn).
Numerous IEEE Day events have run across South Africa, for the first time after several years (organized by David Oyedokun, Michael Tarerefa, Craig Plaatjes and Albert Lysko).
Four 

South African teams participated in IEEE Xtreme programming competition

, for the first time since 2010, executed by organized by Meera Joseph, Wynand Lambrechts, Nwabisa Letsoha, Lindokuhle Shongwe and Philip Strydom.
We hosted IEEE Standards Association (IEEE SA) Body of Governors (BoG) meetings in Johannesburg in February 2018
Section leadership updates
The Section held elections: several people were nominated for the Executive Committee (ExCom) positions, followed by 127 Section members voting for the Section level positions with more than one candidates, namely Chair and Secretary. The new Section ExCom is as follows (please see http://ieee.org.za/contact-us for for pictures etc.):
More updates may be expected to come soon, with positions in some of the Standing and Ah-Hoc Committees as well as in Chapters and Student Branches to be filled in.
Awards / Recognitions for 2018
IEEE awarded the South Africa Section with Gold Award for Membership Development
 ​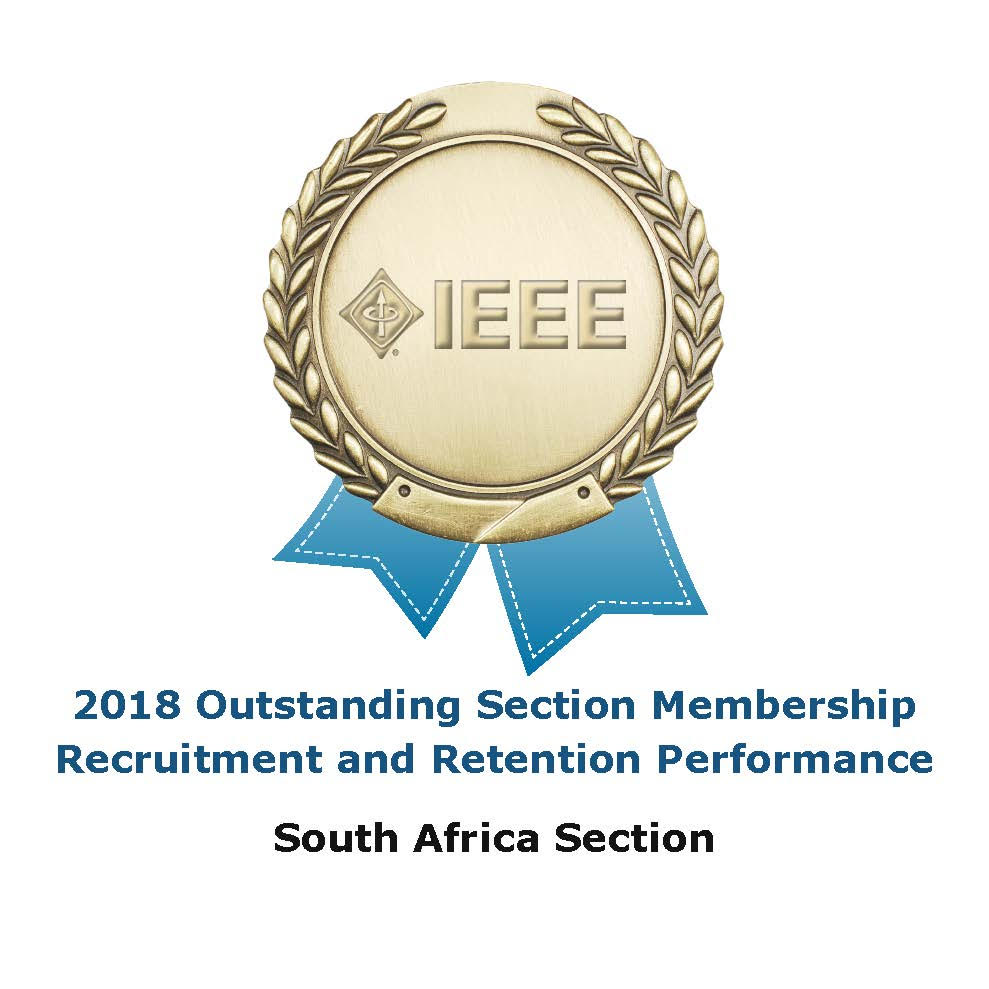 ​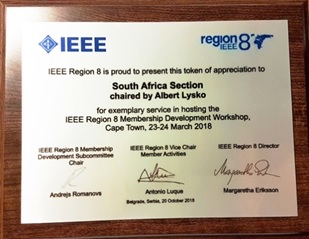 Most Active Chapters in 2018

Joint Antennas and Propagation, Microwave Techniques and technologies, and Electromagnetic Compatibility (AP/MTT/EMC) Chapter: 18 events attended by 290 people, plus 3 conferences
Joint Signal Processing and Communications (SP/ComSoc) Chapter: 14 events attended by 210 people, plus a conference, plus a significant increase in Young Professionals (YP) members in the Communications Society (ComSoc)
Universities with Most Active Student Branches (including their subsidiary technical Chapters and Affinity Groups) for 2018

UCT: largest and most active student branch (also, especially for running regular Hackatons supporting local schools)
UP: large and has had many events
UKZN (HKN and Student Branch): became the 3rd largest in RSA
SUN: more than doubled student members, compared to Dec 2017
UWC: South African lead in IEEE Xtreme, new Student Branch
WITS: more than doubled student members, compared to Dec 2017
UNISA: significantly increased the number of student members.
Outstanding volunteers for 2018
Special mentions
With sadness, we re-iterate about passing of one of our esteemed volunteers, Prof Hendrick Ferreira.
With pride, we list the names of the current highest ranking IEEE members of our Section – an Honorary member and 4 Fellows:
Some information on how to become a Fellow of IEEE is available here.
Following a series of Senior Membership Development Workshops held in May 2018 (http://www.ieee.org.za/ieee-senior-membership-elevation-workshops-south-...), it is my pleasure to offer sincere congratulations to our 26 colleagues elevated to new IEEE Senior Members in 2018 (as compared to 6 in 2017):
Thomas Afullo, UKZN
Johan de Villiers
Sunil Maharaj, UP
Olutayo Oyeyemi Oyerinde, UJ
Johnson Carroll, UJ
Barend Erasmus Taute, CSIR
Luzango Mfupe, CSIR
Abdulwaheed Musa, UJ
Adoniya Sebitosi, SUN
Pieter Fourie, SUN
Thavenesen Govender, ESKOM
Moshe Masonta, CSIR
Jules Merlin Mouatcho Moualeu, WITS
Zola Ntshangase, ZML Africa Projects
David Rubin
Gbolahan Aiyetoro, WITS
Sabelo Dlamini, CSIR
Coenrad Fourie, SUN
Rajendran Naidoo
Tapiwa Chiwewe, IBM
Herman Engelbrecht
Jan Jacobs
Tinashe Mutsvangwa, UCT
Yanxia Sun, UJ
John Van Coller, WITS
Barend Van Wyk, TUT
Please note that the current process experienced a bottleneck and some applications are still being processed. Apologies for the delay. We hope to process the remaining applications within the next 3 months.
Conferences and Events
Membership Renewal
Please remember to renew your membership as the final deadline of February 28, 2019 is approaching.
Please renew or join here:
Options available here (incl. EFT option):
IEEE membership opportunities:
Thank you for your contributions to making 2018 so fruitful, once again!
With best wishes for 2019
Albert Lysko
On behalf of IEEE South Africa ExCom
This newsletter can also be viewed online at http://ieee.org.za/summary-report-ieee-south-africa-section-2018
Previous report (for 2017) can be found at http://ieee.org.za/summary-report-ieee-south-africa-section-2017