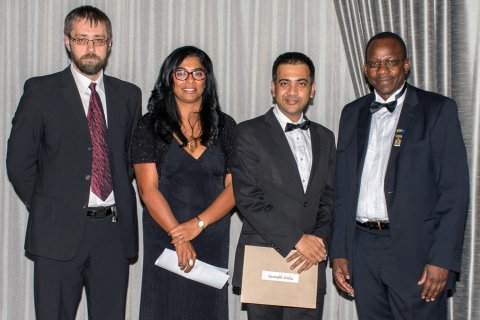 The 2017 SAIEE - IEEE Joint Distinguished Volunteer Award was awarded to Prof Saurabh Sinha
The SAIEE - IEEE Joint Distinguished Volunteer Award was established in 2013 and promotes the spirit of volunteerism by recognizing a volunteer active in the IEEE, SAIEE or both organizations. The award criteria require that the volunteer …
should make or has made a valuable contribution to the electrical engineering profession in South Africa, and

promotes the electrical/electronic engineering profession in South Africa within IEEE/SAIEE designated fields or meaningfully contributes to one of the social challenges in South Africa through the application of electrical/ electronic engineering.
The award includes a cash prize equally contributed by SAIEE and IEEE South Africa Section. The nominations for the award are reviewed by the SAIEE – IEEE South Africa Joint Awards and Recognition Committee. The Joint IEEE- SAIEE award had a Joint Committee which consisted of seven members including 
Prof. Alta van der Merwe, Senior member of IEEE, Co-Chair: IEEE Systems, Man, and Cybernetics Society (SMC) Technical Committee on Enterprise Architecture and Engineering, Professor and EBIT Deputy Dean: Teaching and Learning at University of Pretoria;

Prof Jan de Kock, Fellow of SAIEE, Professor at North-West University; Mr. Esrom Malatji, Member of IEEE, Chair: IEEE South Africa Section Power and Energy Chapter, Lecturer at University of Johannesburg;

Dr Albert Lysko who is the Senior member of IEEE, Chairman: IEEE South Africa Section, Chair: IEEE South Africa Section Awards & Recognitions Committee Chair, Principal Researcher: CSIR, Chief Consultant: Lysko Consulting CC;

Ms. Refilwe Buthelezi, SAIEE Power and Energy Section Chairperson, Asset Automation Manager at Rand Water;

Dr. Seyi Olokede, Senior member of IEEE, Chair: IEEE South Africa Section Membership Development Committee, former Postdoctoral Research Fellow at University of Johannesburg and

Ms. Sy Gourrah, Fellow of SAIEE, SAIEE Junior Vice-President, Chairperson of the SAIEE Continuous Professional Development Committee; General Manager: ACTOM Power Systems Division. 
The person, whom the Committee unanimously voted for, contested the IEEE Assembly elections and was successfully elected as an IEEE Vice-President (VP): Educational Activities (member of the IEEE Board).
The same person has served the SAIEE with distinction and has taken the SAIEE Africa Research Journal to great heights, with the journal issues now being 3-6 months ahead of schedule, and journal being indexed by SciVal/Scopus (Elsevier). The journal was accredited and continues to be on the accredited list of the Department of Higher Education and Training (DHET). The journal has received favourable review by ASSAf (Academy of Science of South Africa). The awardee now works on the journal to be indexed through the IEEE/IET Electronic Library, or IEEE Xplore.
In IEEE roles locally, the awardee took IEEE membership in South Africa from 400 to over 1000 members, and founded GOLD ("Graduates of Last Decade", now "Young Professionals") and Women-In-Engineering affinity groups. He ignited member's interest in and supported establishing 14 IEEE Society/Council Chapters. On the humanitarian side of IEEE activities, the awardee co-founded the Engineering Projects in Community Service (EPICS)-in-IEEE initiative, which was globalised and still in active service in South Africa.
The awardee is Prof. Saurabh Sinha who continues to serve IEEE in various ways, incl. as a past VP: Educational Activities (member of the IEEE Educational Activities Board (EAB)). In the history of IEEE, over 130 years, and to our knowledge - this may have been the first time for a South African to be elected & to serve the IEEE Board and in this significant manner; this VP portfolio also chaired the 2014-2015 IEEE Educational Activities Board (EAB) which provided oversight to, among others, pre-university, university and continuing education portfolios of IEEE – at a global level.
Professor Saurabh Sinha is the Executive Dean of the Faculty of Engineering and the Built Environment at the University of Johannesburg, and as of 1 Dec. 2017, he will serve as the Deputy Vice Chancellor (Research and Internationalisation) for the University. It is notable that both Prof Tshilidzi Marwala, incoming Vice-Chancellor and Principal, and Prof Saurabh Sinha are both Fellows of the SAIEE.
We wish to also recognize Prof Sunil Maharaj, the Dean of the Faculty of Engineering, Built Environment and Information Technology (EBIT) at the University of Pretoria, for nominating Prof Saurabh Sinha. Prof Sinha formerly, and for over a decade, served the University of Pretoria and in various capacities – with the last role as Director of the Carl and Emily Fuchs Institute for Microelectronics, Department of Electrical, Electronic and Computer Engineering, EBIT.
Prof Sinha has worked to ensure close cooperation between SAIEE and IEEE for mutual benefit of the organizations and the nation, and he has been a great ambassador for the Electrical Engineering Profession, with simply too many contributions to try to mention all.
The award ceremony was held as a part of the SAIEE Banquet held at the Wonderers Club, Johannesburg on 27 Oct 2017 from 7PM.